Family Historian 7 Overview: Starting A Genealogy Hobby for Free
Family Historian 7 is a user-friendly software aimed at helping you build your family tree, beginning with a selected root individual. It comes with integrated online search tools that can find matches on websites like FindMyPast and MyHeritage. These tools help you discover more details about your relatives, even those you might not know about. Note that using historical records from these platforms may necessitate a paid subscription.
You can try out the software by downloading a 30-day free trial. However, please be aware that Family Historian 7 is currently compatible only with Windows Vista and above.
In my review, I'll provide an overview of my personal experience using Family Historian 7, highlighting both its positive aspects and areas for improvement. By the end, you'll be equipped to make an informed decision about whether it meets your requirements for building your own family tree.
Start Your Family Historian 7 Free Trial Today!
Start Your Genealogy Journey for Free
You can put Family Historian 7 through its paces without spending a penny. They offer a free 30-day trial of the family tree software, after which, you will need to purchase a license. During the trial, you can access all Family Historian 7 has to offer, including:
Build your own family tree, adding as many relatives as you like.
Start from scratch or import GEDCOM or other family tree files.
A wide range of genealogy charts and reports to choose from.
Map feature charting your ancestor's geographical journey.
Internet search tools connected to genealogy sites.
Signing up to the free trial was very easy. All I needed to do was download and install the software onto my computer, which only took a few minutes. That's it, you can now open the program and start building your family tree. No credit card details are required.
I'm a first time user of family tree software, so I really appreciated 'The Tour' on the Family Historian 7 website, which walked me through the process in simple terms.
Start Your Family Historian 7 Free Trial Today!
Family Tree Builder Software – Simple-to-use, but Poor Compatibility
When you start the Family Historian 7 software, you immediately encounter a useful sample project. This example effectively demonstrates the potential outcomes and how your genealogy charts might look.
I found that spending some time exploring this sample project was very helpful. It gave me a better understanding of the types of information needed and how to enter it, which was valuable before beginning my own genealogy research.
The software is intuitive, making it quick and easy for me to add family members, which has to be done manually. You can add pictures, birth dates, death dates, towns, job information, and facts to each family member.
Potential matches to genealogy websites show up as hints next to family members, but the records from FindMyPast and MyHeritage require a paid subscription.
There are a number of negatives to the Family Historian 7 software. The device compatibility is poor, only working with the Windows Operating System, specifically Vista, 7, 8, 8.1, or 10. If you have a Mac or Chromebook, you'll be unable to use the program.
Furthermore, unlike many other genealogy programs, you can't input any DNA information to find and add additional relatives to your tree. Plus, although you can source information on relatives and ancestors from MyHeritage and Find My Past, they come with the additional cost of a subscription.
Unfortunately, for me, the charts are not particularly visually appealing, with a rather retro and bland appearance. However, you can share your findings online with family, or by using the simple scrapbooking tools to create informative booklets and CDs with your genealogy findings.
Share Your History With Family Historian 7
5 Standout Features of Family Historian 7
Internet Search Tools to Match with Genealogy Websites
Find more information on your ancestors and additional family connections with Automatic Data Matching to family tree profiles and historical records from MyHeritage and FindMyPast's extensive databases.
You can also use the Internet Search Tools to automatically search through numerous online genealogy sources, including Ancestry UK and US, the Census, and much more. If you find anything of interest, you can drag and drop text or pictures into your project, which will be given an appropriate source citation automatically.
Find Your Relations With FAmily Historian 7!
Bring Your Family History to Life with Pictures and Media
Although the charts and diagrams are not the most visually appealing, you can make your family tree look better with the addition of images. Add pictures of your relatives, of places they've worked, life events, and more.
The more pictures you add, the more personal your family tree becomes – it gave me a real sense of shared history. You can add as many pictures as you like, and with pictures with multiple relatives, you can tag individual members.
You can also add documents, letters, audio clips, and videos, and other types of multimedia to your family records. This makes your family tree much more interactive, really bringing it to life.
Bring your Ancestors to Life With Family Historian 7
Track Your Family's Geographical Journey with Maps
The Map Window of Family Historian 7's interface shows the locations of all the places of all the events in your family tree. From births, weddings, deaths, and more, you can track the movements of your whole family or a single individual, whether it be around the world or just in a single country.
Just click on a marker on the map, and all the events that occurred there are shown in a pop-up window. Plus, the Time Slider tool allows you to see the changes over time, which can give you really interesting insights into your ancestor's journey, especially if long migrations were involved.
Track Your Ancestor's Movements With Family Historian 7
Add Your Own Fact Types for a Custom Family Tree
Family Historian allows you to record details for a number of predefined events, including birth, death, marriage, divorce, and baptism. However, if you want to add more detail to your family history, it's simple to create new fact types and use them like standard events. For example, you could add medical history, vacation history, graduation, and other life events, creating a comprehensive and custom family tree that's completely unique.
Build a Custom Family Tree With Family Historian 7
Create Variety of Shareable Reports, CDs, and Websites
When it comes to viewing or printing out your family tree, there is a large range of charts and reports to choose from. Of course, there is the standard ancestor and descendent diagrams, plus a fan chart, charts featuring everyone including all relationships, and charts for individual relatives. In all there are 22 diagram types, plus you can create your own custom family tree diagrams.
Family Historian comes with over 30 configurable reports, allowing you to create a narrative of your family history from your family tree. These reports can be made into booklets and books, using Family Historian's scrapbooking tools.
All of this information can be downloaded onto CDs and DVDs, or uploaded on a website, using Family Historian's wizards, making it easy to share with relatives. You can protect the privacy of certain individuals, by omitting all details or restricting what detail is published.
Share Your History With Family Historian 7
Growing Your Tree Is Easy – But Research Comes at a Price
With the free trial, all I needed was my name and email address to download the Family Historian 7 software and start building my family tree.
Starting with myself as the root person, thanks to the intuitive and user-friendly software, within an hour I had the basis of a family tree. The system for inputting family members is very simple, with the ability to add pictures and numerous facts to each individual.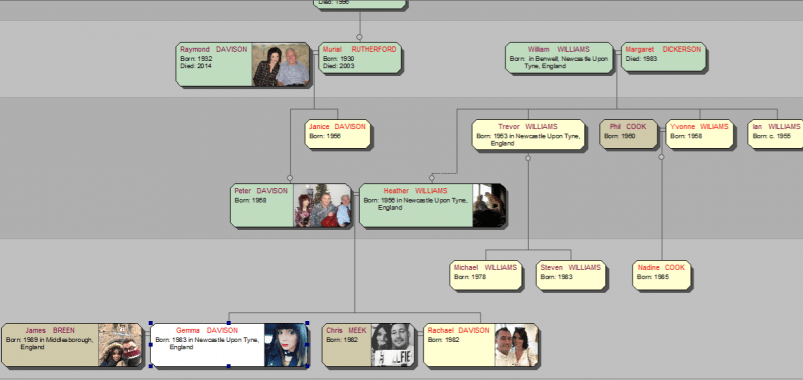 I had quickly exhausted my personal knowledge of my family tree, however, Family Historian provides on-screen hints in the main workspace window when potential matches are found on MyHeritage and FindMyPast. Clicking on these hints gives an idea of the information you may discover on the genealogy sites, but you need to pay for a subscription to view the records.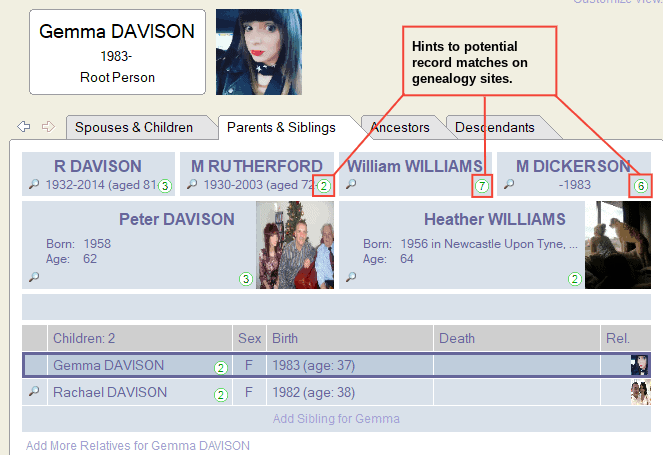 My search for family history records didn't end there. The Internet Search Tool allowed me to automatically search genealogy sites – such as the Census, Ancestry, and more – to see if any records matched my family members.
Unfortunately, the internet search didn't provide me with any extra information, but it was useful that you could search the internet within the Family Historian program, which means no going from one tab to another.
There are a number of things about the Family Historian software that I liked. The manual entry for family members is quick and simple and allows you to add as much or as little information as you like. Plus, if you make a mistake, there is an undo function, so you don't have to delete a whole entry and start over.
I did like that you could choose which relatives you could show on the tree, from showing every member, or just the descendants and ancestors of individual family members. Also, the map feature would probably prove really interesting to those who have family spread around the world.
The big disappointment of Family Historian is the inability to add DNA information, which could have revealed a huge number of potential relatives. I also found the charts and diagrams to be visually dull and old-fashioned.
Start Building Your Family Tree With Family Historian 7
One-Off Cost for Software Download, but Expect Extra Costs
After the 30-day free trial of Family Historian 7 has expired, you'll need a license to use the download, which can be purchased through the website for a one-off cost of US$ 46.50(prices may vary if purchased through other vendors).
If you have a previous version of Family Historian and want to upgrade to the latest version of the software, the cost will vary. Note that it's more expensive to upgrade, the older your current version of the software. For example, if you have version 3 or earlier, you will pay the full cost, but for version 5 it will cost you roughly a third less.
If you want to purchase multiple licenses for family or for additional computers, discounts on each download are available with 12% off two licenses, and 25% off three licenses or more.
There are no subscription costs for the software, but if you want to access additional information from MyHeritage or FindMyPast to build up your family tree, you will have to pay a monthly fee. Without the billions of historical records from these genealogy sites, it is difficult to grow your family tree very far beyond your own knowledge.
Is Family Historian 7 worth the cost? That's a difficult question. A one-off price for the software download does provide value-for-money when you consider the number of charts and reports you can create. Plus, you can access information from the 1901 and 1911 census, Ancestry UK, and some registrar records for free via automatic internet searches.
However, research into your family history can only go so far before you have to pay additional costs for subscriptions to genealogy sites.
Get Started With Family Historian 7
Informative Help Center, but Difficult to Contact Support Directly
For those struggling to use the Family Historian software, there is an extensive 'Support' section on the website, complete with video tutorials and guides and frequently asked questions.
However, if you have any technical issues or have a question not adequately covered in the help center, you may need to contact customer support. Unfortunately, there is only one way to contact customer service and that's via email.
After reading through the information about what was new in the 6.2 version of the software I downloaded, I was curious to know if paying customers would receive a free upgrade to Family Historian 7, when it is released.
I sent an email to customer support and a support ticket was created, which I could monitor the progress of by clicking a link in an automated response.
I received a response in a few hours confirming that I would receive a free upgrade to Family Historian 7, with the purchase of 6.2.
It's unfortunate that Family Historian doesn't currently have more ways to contact customer support, since it can take a while for customer support to respond to a ticket. This can be frustrating, particularly if you're experiencing technical difficulties.
Create A Decent Family Tree (If You Know Your Stuff)
Family Historian 7 is a good choice for beginners to create a family tree thanks to it's easy to use system and smart trees, which automatically adjust with each change you make.
However, if like me, you don't know a great deal about your family history, you may only get through a couple of generations before you need to consult additional resources. This will more than likely require subscriptions to FindMyPast and MyHeritage, which are not cheap.
You do benefit from excellent scrapbooking tools and a wide selection of charts and reports, which is great if you want to share your research with your family or online.
So, although Family Historian 7 is great if you know a lot about your family history or already have a GEDCOM file of a large tree you want to use to create narrative reports, there are better options out there. FindMyPast is a great choice if you're serious about creating your family tree.
Start Your Free Trial With Family Historian 7
FAQ
Can I chart my family tree for free with Family Historian 7?
Yes! You can start building your family for free, as Family Historian 7 offers a 30-day free trial, where you can try all the software's features. The free trial is available to download from the Family Historian website and no credit card details are required. However, the software is only compatible with Windows operating systems. For a more versatile family tree builder, we recommend FindMyPast.
Can I import data from other family tree software programs?
Of course, as long as you have a GEDCOM file saved from that family tree software. GEDCOM is the world-wide standard for sharing genealogical information and Family Historian is 100% GEDCOM compatible, meaning you can import your family tree into the software, with accurate results. This is great if you want to create some narrative reports or additional charts from an existing family tree file.
Is it worth subscribing to genealogy websites?
If you know a lot about your family history and have relatives that can help you build your family tree, you may not need a subscription to a genealogy website. If you have information to go on, you can find useful resources online that can be accessed for free, such as some Census records.
However, if you only know a few generations of family history, and you're serious about creating an extensive family tree, you're likely to benefit from a subscription to a genealogy website. Ancestryhas access to over 27 billion historical records online, which includes more than 13 billion ancestral profiles. Plus, Ancestry offers a two-week free trial, so you can try it out risk-free.
Can Family Historian 7 prove I'm related to someone?
Possibly, if you subscribe to a genealogy website to access the information provided by Family Historian's Automatic Data Matching. This may help you to locate people that appear to be related to you, in a genealogy website's database of historical records.
For example, if you locate your grandfather in a genealogy database, associated historical records may uncover more relatives you haven't yet discovered. However, finding an entry in a genealogy database that matches the name and dates of a relative isn't a guarantee that they are your relative. It could be someone of the same name, therefore it is always worthwhile having more than one source of information before adding a new relative to your family tree.
Where can I find pictures of distant relatives to add to my Family Historian tree?
Adding pictures and media to your Family Historian 7 family tree will really bring it – and all the charts and reports you create from it – to life. However, you may only have pictures of relatives going back a few generations, so where can you find pictures of your more distant ancestors?
If you subscribe to a genealogy website – like MyHeritage or Ancestry – its databases will not just contain names and dates, but also sometimes photos of the individuals. Even without a genealogy subscription, you may be able to find pictures of distant relatives via a simple web search – it is always worth a try.